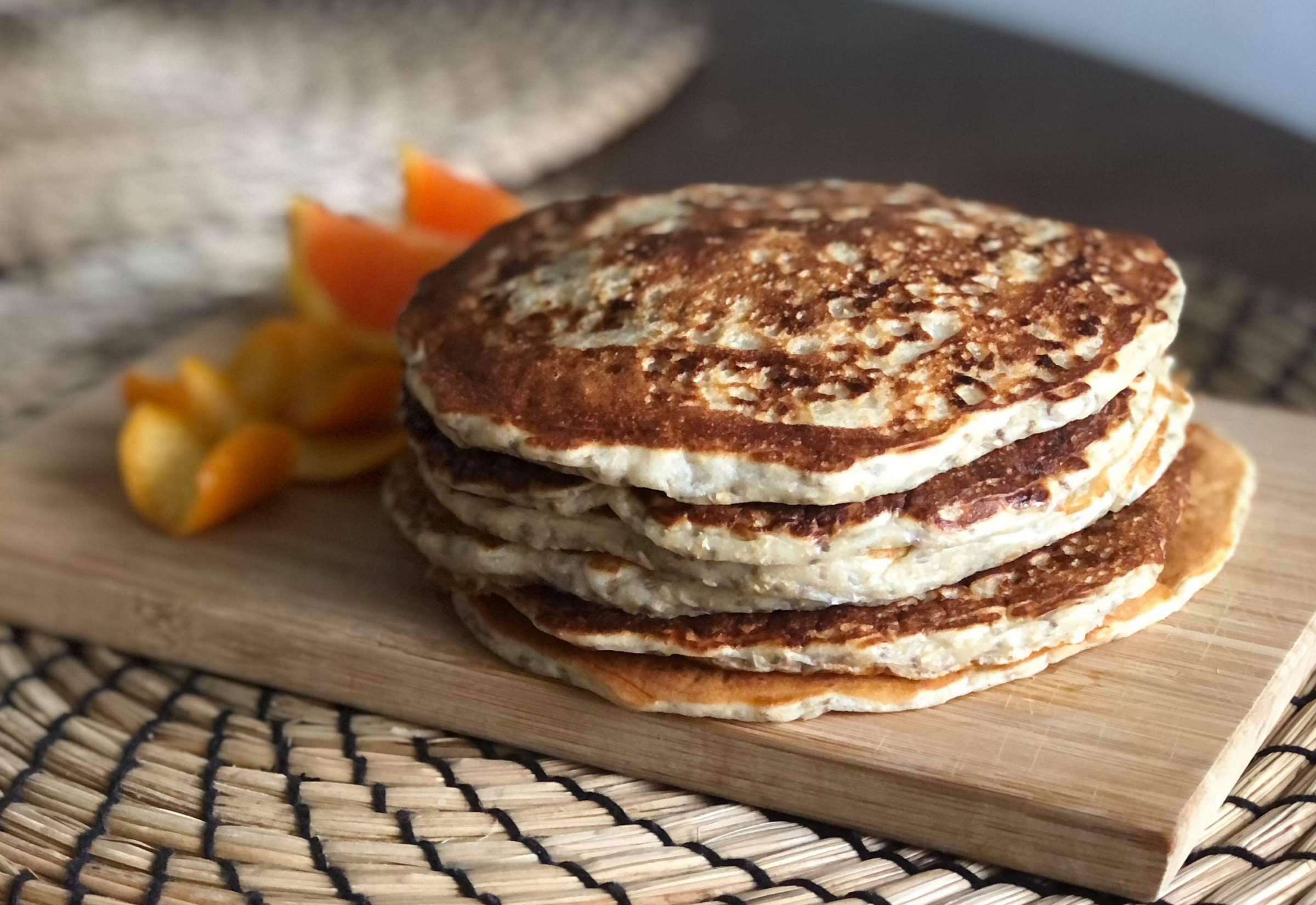 Choc Protein Balls
10 minutes  |  Serves 15
Ingredients 
1 ½ cup rolled oats
1 cup natural nut butter
1 tbsp cacao powder
1 tbsp protein powder
2 tbsp chocolate chips
½ cup desiccated coconut
Method
1. Place oats, nut butter, protein powder, cocoa powder and chocolate chips in a large bowl and stir well to combine. If mixture is too dry or crumbly, add 1 tbsp of water or choice of milk.
2. Once well combined, use a spoon to scoop a small amount of the mixture and form into balls. Add desiccated coconut to a small bowl, and roll balls in the coconut to coat.
3. Store balls in a sealed container in fridge or freezer.
Orange Chia Pancakes
20 minutes |  Serves 8 Large or 16 Small
Ingredients 
2 cups milk of choice
¼ cup chia seeds
¼ cup honey
1 tsp vanilla
1 ½ cup self-raising wholemeal flour
1 tbsp orange zest
Method
1. In a large bowl, combine chia seeds, honey, vanilla, orange zest and milk and set aside for 20 minutes in the fridge. Then add flour to the mixture and mix well.
2. Heat tsp oil or butter in a frying pan over medium heat and spoon batter mixture according to desired size into pan. Cook for 2 minutes on each side and flip over when bubbles start to form and pop on top.
3. Serve with a tbsp of orange juice or maple syrup.
Low Sugar Chocolate Muffins
35 minutes |  Serves 12
Ingredients 
2 cups wholemeal flour
1 tsp baking powder
½ tsp baking soda
100g sour cream
2 large eggs
1 tsp vanilla
3 tbsp cocoa powder
½ cup dark chocolate chips
Method
1. Preheat oven to 170 degrees and spray muffin tray with light olive oil.
2. In a large bowl, add sour cream, egg, vanilla and whisk ingredients together. Sift flour, baking powder and baking soda into bowl, and make sure not to overmix. Gently fold through chocolate chips.
3. Transfer mixture to muffin tray and bake for 25 minutes or until a skewer comes out clean. Set aside to cool for up to 10 minutes before serving.
Granola Snack Bars
5 minutes (Chill Time: 1 hour)  |  Serves 8
Ingredients 
1 cup natural nut butter
2 cups whole rolled oats
½ cup honey
1 tsp vanilla extract
½ cup pepitas
⅓ cup chocolate chips
Method
1. Line a 20-25 cm square baking pan with baking paper.
2. In a large bowl, add nut butter, honey and vanilla and combine until smooth.
3. Roughly chop pepitas, then add oats, pepitas and chocolate chips to the mixture. Once the mixture is well combined, transfer to pan and press down evenly and firmly.
4. Chill for at least one hour, then slice into bars. Store bars in the fridge or freezer.