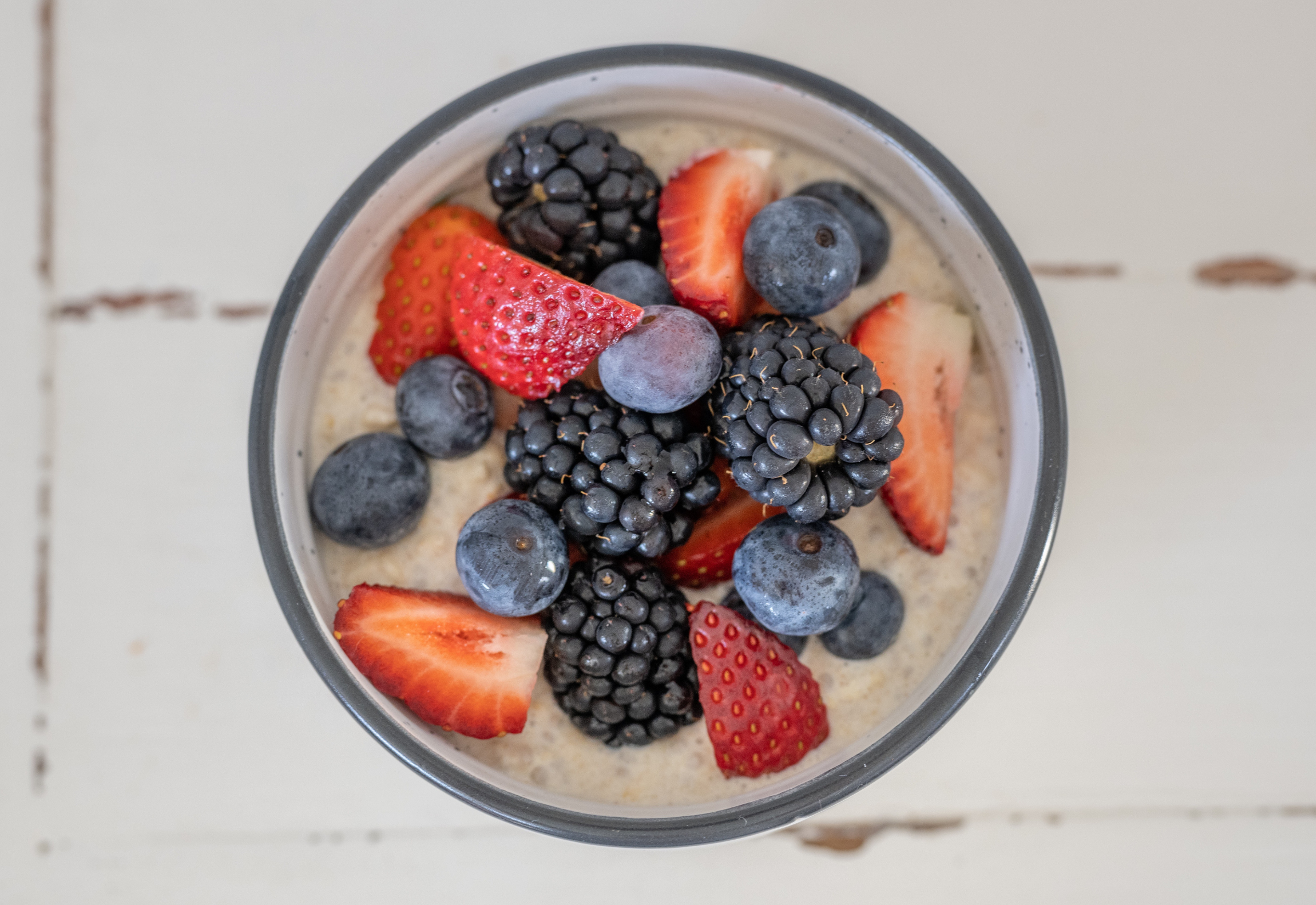 Simple Overnight Oats
5 minutes (Chill Time: Overnight)  |  Serves 2
Ingredients 
1 cup of rolled oats
1 cup of choice of milk
½ tsp of cinnamon
1 tbsp of honey
1 tbsp chia seeds
½ cup Greek yoghurt, or dairy-free alternative
1 cup berries frozen or fresh (to serve)
Method
1. Add all ingredients into a sealable container and stir well to combine. 
2. Allow the mixture to soak in the fridge overnight, then top with berries to serve.
Peach & Ricotta Sourdough
15 minutes |  Serves 2
Ingredients 
4 slices wholemeal sourdough bread
2 fresh peaches
1 tbsp honey
1 cup reduced fat ricotta
1 tbsp pumpkin seeds
Method
1. Toast sourdough bread and thinly slice peaches.
2. Spread ricotta on bread, top with peaches and honey and sprinkle with pumpkin seeds.
Breakfast Smoothie Bowl
10 minutes |  Serves 2
Ingredients 
1 frozen or fresh banana
1 cup frozen or fresh berries
1 cup milk of choice
1 tbsp honey
1 tsp chia seeds
¼ cup Greek yoghurt, or dairy-free alternative
2 tbsp protein powder (optional)
Toppings
¼ cup granola
¼ cup sliced banana
¼ cup desiccated coconut
Method
1. Place all ingredients in a blender and blend for roughly one minute.
2. Transfer the mixture to two bowls and add toppings.
Simple Overnight Oats
15 minutes  |  Serves 2
Ingredients 
12 large eggs
Grape tomatoes, halved
1 cup baby spinach
1 spring onion, thinly sliced
170g goats cheese
Method
1. Preheat oven to 170 degrees.
2. Add eggs to a bowl and season with salt and pepper. Whisk eggs until fluffy.
3. Slice bacon into small pieces, add to a frying pan over medium heat and cook until crispy. Remove cooked bacon to a paper towel to drain.
4. Spray muffin tray generously with olive oil. Halve the cherry tomatoes and combine all ingredients in a large bowl then evenly fill muffin tray and bake for 20-25 minutes.
5. Allow muffins to cool, then remove each egg muffin from the tray to serve immediately or store in fridge or freezer.