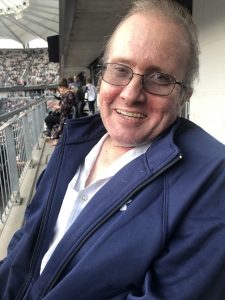 In Memory of Geoffrey McAlary
IDFA would like to send their condolences to the family and friends of Geoffrey McAlary and thank them for their donations that have been made in memory of Geoffrey. 
Geoffrey lived a full life, all the while fighting a long battle with his primary immunodeficiency and passed away on the 27th of October 2021, aged 54.
Geoffrey's family would like to honour both his memory and the help and care given to his family by Associate Professor Sean Riminton and his team.
All donations made in memory of Geoffrey will go towards improving the lives of Australians affected by primary and secondary immunodeficiency.
IDFA sends thanks to the following donors: 
– Herro Foundation – $1,000
– Mary Anne Duncan – $500 
– Cathy, Philip, Emily and Chris Mullen Mullen – $250 
– Chris Mullen – $250 
– Damien and Elyse Mullen – $200 
– John & Margot McAlary's family – $200 
– Lauren Mullen – $200 
– Joan McAlary – $100 
– Elizabeth Hunt – $50 
– Kerry Julie and John Law – $50
– Anonymous – $50