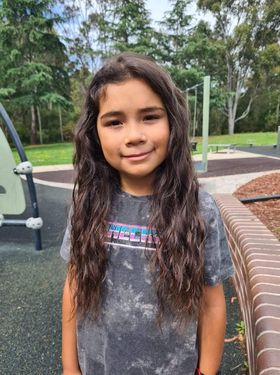 8-year old Tyson Gavan Aims to Raise $5,000 for IDFA
This month, 8-year-old Tyson Gavan is aiming to raise $5,000 for the IDFA by calling on people to sponsor him to cut off his hair this Giving Tuesday (30th November, 2021).
Having received a bone marrow transplant just over four years ago, Tyson hasn't cut his hair since. Tyson hopes to raise funds for IDFA while also donating his long hair in aid of helping another child going through chemotherapy and something similar to what Tyson did.
The IDFA is a charity close to Tyson's heart, having been diagnosed with a rare genetic disease in 2014 at 10 months old, X-linked Chronic Granulomatous Disease. After experiencing a series of unexplained fevers and infections that would go away with IV antibiotics and then return soon after, it was found that Tyson was in the top 10% of those severely affected by this condition. Doctors highly recommended a bone marrow transplant.
Tyson's family were told that to have a second healthy child that would also be a possible bone marrow transplant donor for Tyson, genetic selection IVF was recommended. After much testing and preparation, Tyson's parents started the process. From their second round of IVF, they received two healthy embryos that were unaffected by Chronic Granulomatous Disease. One of these embryos took and resulted in Tyson's happy, healthy little brother Alexander who was born in August 2016.
In October 2017, Tyson had a successful bone marrow transplant operation and was able to receive a fresh transfer of Alexander's cells as well as his brothers' blood cord.
''Tyson surprised everyone with minimal complications. He walked out of the Westmead Children's Hospital doors for the first time with his new immune system on board +35 days post the bone marrow transplant… It was a long bumpy road of recovery with good days and bad days and a lot of medication to get him out of the woods, but we got there, one foot in front of the other and one day at a time,'' said Tyson's father, Michael Gavan.
''It was heart breaking to have your first child diagnosed with something so life threatening so early and we appreciate that in Australia we got the right help and attacked it head on and came out with two happy, healthy, beautiful little boys. We are grateful for every day and what modern medicine is capable of,'' said Michael.
Carolyn Dews, Executive Officer at IDFA said "We are incredibly grateful to Tyson and his family for raising funds and awareness for the IDFA. The funds that Tyson will raise will help IDFA improve the lives of Australians affected by primary and secondary immunodeficiency."
Tyson is accepting donations for the IDFA through the Go Fundraise website. Read more about his story and donate here.