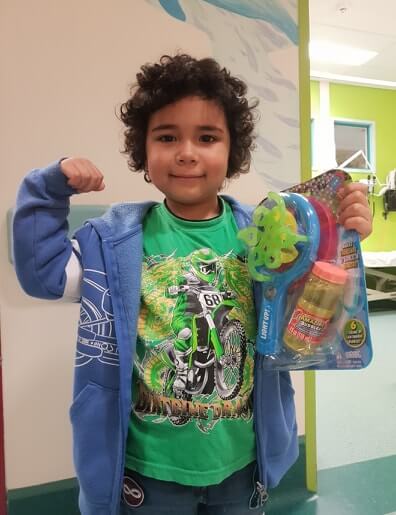 Tyson
Our son Tyson was born in April 2013 in Sydney and was reasonably well for the first 6 months of his life. It was around October 2013 when he began to have a series of unexplained infections and fevers that would go away with IV antibiotics and return soon after they were stopped. On the third or so occasion that we ended up in hospital we insisted that they do further testing to find out what was happening and a few weeks later in January 2014 Tyson was diagnosed with the rare genetic disease which is X-linked Chronic Granulomatous Disease.
Further testing then continued to map where the genetic fault occurred and how severe his neutrophil function actually was. It was some 6 weeks later that we were informed that Tyson was in the top 10% of those severely affected by this condition and a bone marrow transplant was highly recommended. Due to the mixed ethnicity of Tyson with mum being Thai and dad being Australian we were told that the tissue typing process and the chances of a solid matching donor were unlikely. This was confirmed within weeks that we only had the option of a poorly matched blood cord for transplant and although it was an option it was a very risky option and the statistics in this type of transplant were not good. We were told that genetic selection IVF in order to have a second healthy child that would be a possible match was also an option but we may not have the time to achieve so.
Immediately we got started building our case and in contact with genetic counsellors who sent us to the director of Genea who specialised in these kinds of things. After much testing and preparation, we started the process and were unlikely in the first round, although the second round we actually got two embryos that were unaffected by CGD and both boys and suitable. Immediately we began the process of putting the embryo back and much too our luck and amazement the embryo took and resulted in Tyson's little brother Alexander that was a 10/10 match sibling donor and happy healthy little boy.
Alexander was born August 2016 and had now put some very positive options on the table, but we now had to weigh up when was the right time to go to transplant. We had to ensure Alexander was not put in any danger and we could yield enough stem cells in order to be successful and balance how long we could wait given that Tyson's infections were getting more frequent and more serious even though he was on all the prophylaxis possible for his condition. We ended up waiting until October 2017 until Alexander was put under and Tyson was to receive a fresh transfer of his cells as well as his brothers blood cord that had been preserved and stored from in case we did not have time to wait for Alex to grow.
Tyson was in isolation a few months with the chemotherapy conditioning to suppress his old immune system and then after the transplant until they were satisfied that his new immune system was strong enough to re-enter the world outside Room 1 in Camperdown Oncology Ward at Westmead Children's Hospital. Tyson surprised everyone with minimal complications, he walked out those doors for the first time with his new immune system on board some +35 days post BMT. The first 100 days are the riskiest with the chance of acute complications of BMT and still with a long 6 months or so ahead of him with a very immature immune system and also the risks of transplant complications still lingering. It was a long bumpy road with good days and bad days and a lot of medication to get him out of the woods, but we got there, one foot in front of the other and one day at a time.
We will never forget the road we walked or the help from Westmead Children's Hospital, both the immunology and oncology teams and Genea for playing their part. It was heart breaking to have your first child diagnosed with something so life threatening so early and we appreciate that in Australia that we got the right help and attacked it head on and came out with two happy healthy beautiful little boys. We are grateful for every day and what modern medicine is capable of. ❤❤❤