Making a Difference to PI
26 April 2022 @ 7:00 pm

-

8:00 pm
World PI Week (22-29 April) is a global movement to raise awareness of Primary Immunodeficiency (PID) and related challenges; promote quality of life for people living with the disease, early diagnosis, availability and access to treatment and care worldwide; and stimulate communication and advocacy around primary immunodeficiency.
One of the key focuses of this year's World PI Week is to bring about positive change together. During World PI Week, IDFA will be launching a digital member storybook to tell the story of how some of our members have managed their PI to make a difference in their world.
To coincide with World PI Week, we are pleased to present this webinar where you will be able to hear from two guest speakers who are making a difference in their worlds in relation to primary immune deficiency.
Register in advance for this webinar here: https://us02web.zoom.us/webinar/register/WN_KaWKm7fNRfmaE2K51-tnUQ 
Stuart Tangye will speak about how he is bringing about positive change through his research and how this is ensuring that patients with PID benefit from COVID-19 research and beyond. Stuart's lab is currently running a major research project assessing the responses in PID patients to the COVID-19 vaccine, comparing how effective it is compared to what occurs in the general population.
Stuart is also part of the COVID Human Genetic Effort – a global consortium/collaboration trying to understand genetic and other causes of severe COVID-19.
Hayley is an IDFA member and sits on the IDFA Board and National Patient Advisory Panel.
Hayley's journey as a PI patient started when she became unwell with respiratory infections as a teenager. Diagnosed with CVID at 22, Hayley receives treatment for her immune deficiency and works with both IDFA and Lifeblood to make a positive difference in relation to PI.
ABOUT THE SPEAKERS 
Professor Stuart Tangye PhD, Head, Immunology & Immunodeficiency (Tangye/Ma) Laboratory, Garvan Institute of Medical Research
Professor Stuart Tangye currently heads the Immunity and Inflammation Research Theme at the Garvan Institute of Medical Research. His research centres around the biology of the immune system in health and disease and in trying to understand how single gene defects result in the development and clinical features of primary immunodeficiencies.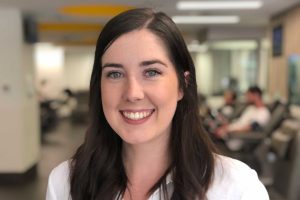 Hayley Teasdale, IDFA Member, IDFA Board and National Patient Advisory Panel Member
In her professional life, Hayley is an accomplished and energetic science and technology professional, specialising in technology development, project management and public policy. A confident and prolific communicator, Hayley has over 5 years of high-level local, government and international stakeholder relationship management and is currently working for the Australian Academy of Science in Canberra.
Register now to attend – it's free: https://us02web.zoom.us/webinar/register/WN_KaWKm7fNRfmaE2K51-tnUQ 
All event times are in AEST. If you live in a different time zone please check the time for your region.